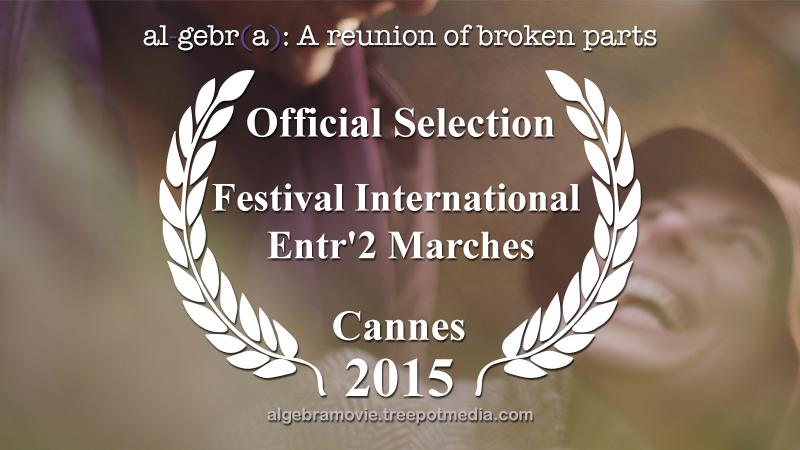 Source:
http://treepotmedia.com/ottawa-film-algebra-to-screen-in-cannes/
Treepot Media is thrilled to share the news that its award-winning short film Algebra: A reunion of broken parts will screen at le Festival international Entr'2 marches during the Cannes Film Festival in May 2015.  Screenings take place at the municipal theater located at 45 rue de Mimont from May 17th to 22nd 2015.
Algebra is Treepot Media founder Jith Paul's directorial debut.  The film about a painter grappling with the loss of his sight was based on a story and script by screenwriter Jennifer Mulligan, lensed by cinematographer Karim Ayari and features an original score by Justin R. Durban. It was shot entirely on location in Ottawa and Wakefield and features a talented local cast and crew.  A workshopping version premiered in Ottawa and the completed version has impressed festival audiences at subsequent screenings in Ottawa, Toronto, Scotland, France, Italy and India.
"Filmmaking is a team sport and I would like to send congratulations and appreciation to the terrific cast, crew and the fans of the film who have continued follow us every step of the way.  Thank you for your encouragement and support." – Jith Paul
Jith's second film, the kickstarter crowd-funded A Clean Slate, a comedy about a pop singer struggling to overcome stage fright was awarded Miglior Cortometraggio Internazionale – America, Best Short Film in the International-America category at the Valle d'Itria Film Festival in Italy in 2014.  His current focus is on Ottawa Indie Fest, a cultural, not-for-profit organization he co-founded, whose mission is to recognize, promote and celebrate the art of cinema by showcasing independent Ottawa, Canadian and international films and filmmakers.
More about the Algebra: TreepotMedia, Facebook
WINNER: Best Technical Quality, Digi60 Film Festival, Ottawa, Canada 2012
Official selection, Toronto Independent Film Festival 2013
Official selection, ProFiRe Short Film Festival 2013 in Edinburgh, Scotland
Official Selection, Clermont-Ferrand Short Film Market, France 2014
Official selection, Resolution 2014 in Ottawa, Canada
Official selection, Valle d'Itria Film Festival, Italy 2014
Official selection, National Screen Institute (NSI) Canada Online Film Festival, 2014
Official selection, Siliguri International Film Festival, West Bengal, India, 2014
Official selection: Festival international Entr'2 marches, Cannes, 2015
– See more at: http://treepotmedia.com/ottawa-film-algebra-to-screen-in-cannes/#sthash.ptNlEsPq.dpuf