Little Brother, the 48hr Film Project – Director's Cut.
Directed by: Justin R. Durban
– Lucas is picked on at school and his little brother is here to protect him.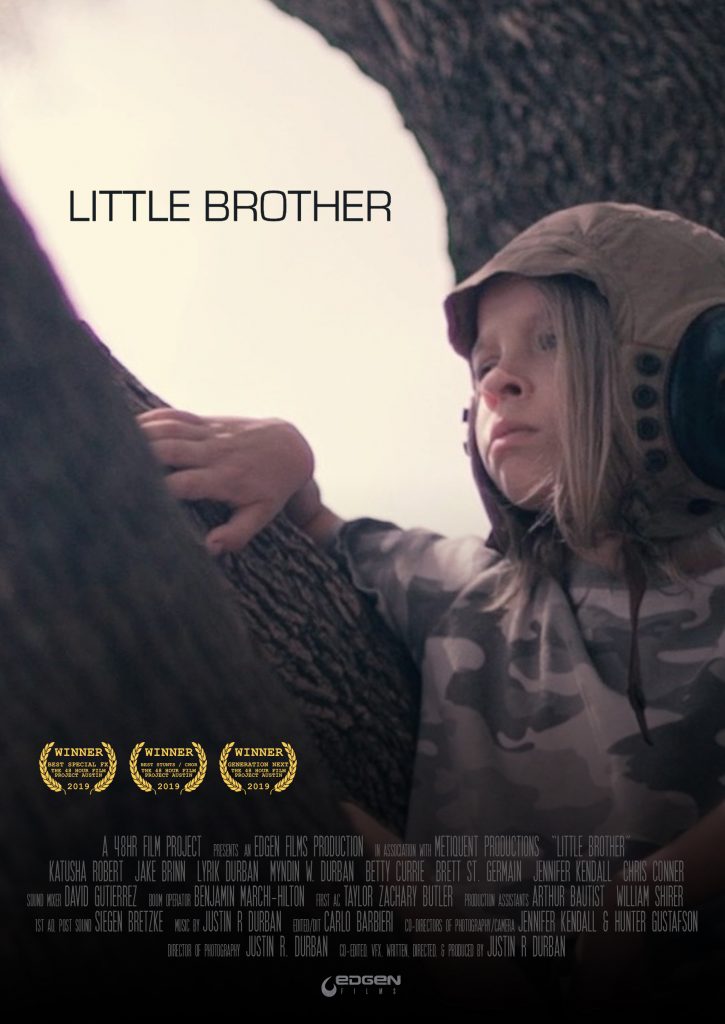 What's Different?
– Updated VFX
– Updated/Added additional Sound FX
– Added a few Cutaway shots
– Fixed/Corrected the End Credits
– Added a smidgen of Color Grading
Enjoy!
Genre: Sci-Fi
Prop: Belt
Character: Ryan Grenada
Line of Dialog: "And who the hell are you?"
(View the original 48hr Film Project cut here:
Cast:
Ripley "Leigh" Grenada – Katusha Robert
Ryan Grenada – Jake Brinn
Lucas – Myndin Durban
Bishop – Lyrik Durban
Red – Brett St. Germain
Brown – Chris Conner
Granny – Betty Currie
Jennifer – Jennifer Kendall
Fur – Brett St. Germain
Crew:
DIRECTED BY:
Justin R. Durban
1st AD
Siegen Bretzke
DIRECTOR OF PHOTOGRAPHY
Justin R. Durban
CAMERA OPS:
Jennifer Kendall
Hunter Gustafson
Co-DIRECTORS OF PHOTOGRAPHY
Jennifer Kendall
Hunter Gustafson
1st AC
Taylor Zachary Butler
GAFFER
Chris Conner
MAKEUP / CREATURE / PA
Brett St. Germain
SOUND MIXER
David Gutierrez
BOOM OP
Ben Marchi-Hilton
DIT
Carlo Barbieri
EDIT
Carlo Barbieri / Justin R. Durban
COLOR
Carlo Barbieri
SOUND DESIGN
Siegen Bretzke
Justin R. Durban
VFX
Justin R. Durban
MUSIC SCORE
Justin R. Durban
PRODUCTION ASSISTANT
Arthur Bautista
PRODUCTION ASSISTANT (guest)
William Shirer
"Thank you"
4reelz School of Film
www.4reelzschooloffilm.com
Esteam Academy
www.esteamacademy.com
Bonzai by Brett
www.bonsaibybrett.com
In Association with
Metiquent Productions
"A Special Thank you"
Nicholle Walton-Durban
&
Skye Connery
This film was made for the 48 Hour Film Project 2019
www.48hourfilm.com
Copyright 2019 – www.edgenfilms.com