"Crick", the 48hr Film Project – Director's Cut.
Directed by: Justin R. Durban
– Lemme give you a tip. If someone wearing a mask knocks on your door… Don't Answer.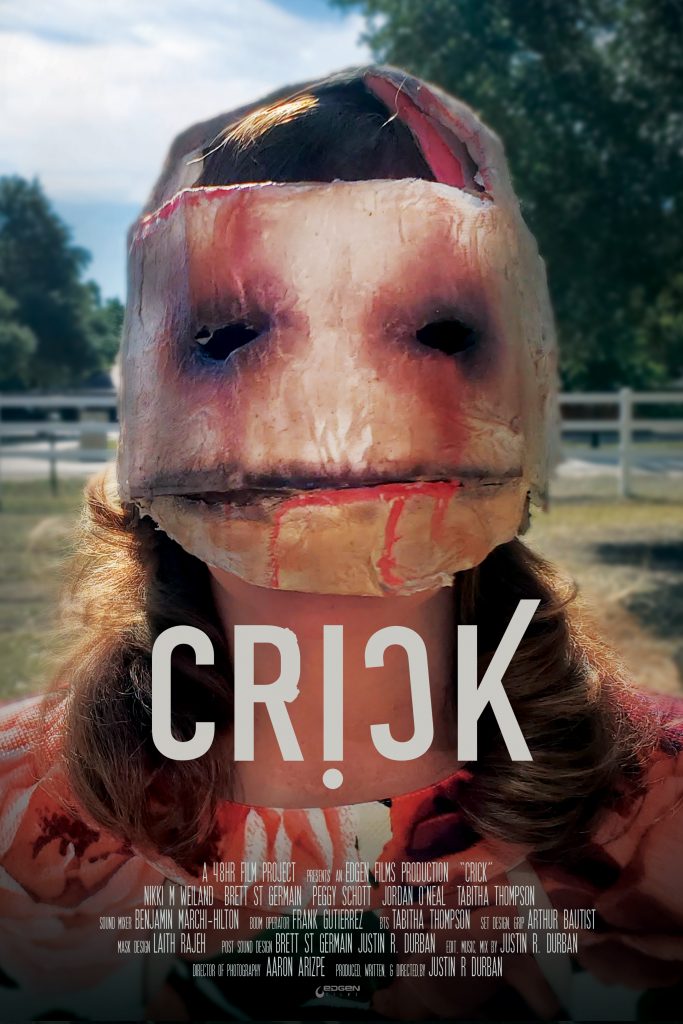 What's Different?
– Tweaked the sound FX
– Fixed a few dialog audio levels
– Shifted the opening shot to show neck
– Added a Cutaway shot of a device
– Fixed/Corrected the End Credits
Enjoy!
WINNER:
🏆 Best Adherence to Genre
🏆 Best Cinematography
🏆 Best Original Score
🏆 Audience Award group A
🏆 1st Runner Up Best Film
nominated for:
(best use of prop, best use of character, best costumes, best actor, best actress, best sound design, top 10)
Genre: Parallel Universe / Gore Slasher Splatter
Prop: Yoga Ball
Character: Jerry, A Painter
Line of Dialog: "Let me give you a tip." or "Lemme give you a tip"
(View the original 48hr Film Project cut here: )
Cast:
Eve – Nikki M. Weiland
Adam – Brett St. Germain
Momma – Peggy Schott
Jerry – Jordan O'Neal
Jill – Tabitha Thompson
Crew:
PRODUCED, WRITTEN, DIRECTED BY:
Justin R. Durban
DIRECTOR OF PHOTOGRAPHY
Aaron Arizpe
SOUND MIXER
Ben Marchi-Hilton
BOOM OP
Frank Gutierrez
EDIT
Justin R. Durban
SOUND DESIGN
Brett St. Germain
Justin R. Durban
MUSIC SCORE
Justin R. Durban
SET DESIGN / GRIP
Arthur Bautista
MASK DESIGN
Laith Rajeh
"Thank you"
Esteam Academy
www.esteamacademy.com
Bonzai by Brett
www.bonsaibybrett.com
Nicholle Walton-Durban
David Gutierrez
This film was made for the 48 Hour Film Sci-Fi/Horror Project 2019
www.48hourfilm.com
Copyright 2019 – www.edgenfilms.com